Product information:
TB-500 peptide is a synthetic form of the naturally occurring peptide known as Thymosin Beta 4. Thymosin Beat 4 is a healing protein, which is present in almost all mammalian cells. The essential ingredient of the TB-500 peptide is LKKTETQ, with acetylation of N terminus. Studies conducted on the TB-500 peptide have shown it to be effective for developing blood vessels and cells, differentiation of cells, and their migration. (1)
Other Names:
Chemical Structure: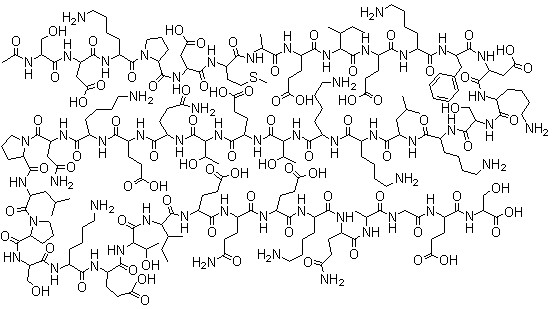 Discovery of TB 500 Peptide
Thymosins were initially discovered by Allan Goldstein in the 1960s, during his time at the Laboratory of Abraham White at the Albert Einstein College. He later found a company that created Thymosin Alpha 1 and Thymosin Beta 4 for the purposes of immunity and tissue regeneration.
Mechanism of Action
The ability of TB-500 to cause several therapeutic effects is due to its effect on G (globular) actin, which is an essential cell-building protein. TB-500 binds to act and facilitates cell migration and differentiation of the stem cells. This further leads to the formation of new blood vessels and allows greater regeneration of tissues.
Thymosin β4 functions like a buffer for monomeric actin as represented in the following reaction:[2]
F-actin ↔ G-actin + Thymosin β4 ↔ G-actin/Thymosin β4
Proposed Applications. Peptide TB 500 Clinical Trials
1. Tissue Regeneration.
TB-500 has been associated with accelerated wound healing, and these effects were further investigated in numerous studies. One such clinical trial involves the application of a TB4 topical gel onto a full-thickness pressure ulcer for one month. When the results were compared with a placebo, application had accelerated dermal healing. (3)
The ability of TB4 to cause full-thickness dermal healing was also investigated in other studies conducted on mice and rat models. The animals that were part of the study include normal mice and rats, those treated with steroids, mice affected by diabetes, and old-aged mice. The study results showed that TB4 was able to cause effective wound healing in these subjects by promoting stem cell mobilization and inhibition of inflammation. Furthermore, it is also found to inhibit apoptosis and infection spread on the wounded site. (4)
2. TB-500 for Enhanced Neurological Functioning
Along with its ability to promote wound healing, TB-500 is also hypothesized to promote neurological functioning. This was further investigated in a study that was conducted with the aim of evaluating the efficacy of TB4 in rats with a traumatic brain injury that has been induced by Controlled cortical impact. The results of the study showed that those rats which had been treated with TB4 had improved spatial earning as compared to the control subjects. (5)
3. TB-500 as an Anti-Inflammatory Agent
In 1999 in Glasgow University during the research process it was found that an oxidised derivative of thymosin β4 (the sulfoxide, in which an oxygen atom is added to the methionine near the N-terminus) exerted several potentially anti-inflammatory effects on neutrophil leucocytes. TB-500 is reported to resolve inflammation by its ability to restore autophagy. It facilitated this by promoting non-canonical autophagy, which is associated with activating DAP kinase's anti-inflammatory functions. (6)
4. TB-500 for Cardiac Valve Development
TB-500 is also hypothesized to play a role in the development of the heart valve of vertebrates. This was further investigated in a study conducted on Zebrafish, where endothelial mesenchymal transformations in the endocardia cushions were recorded. These Zebrafish were found to have defective heart tube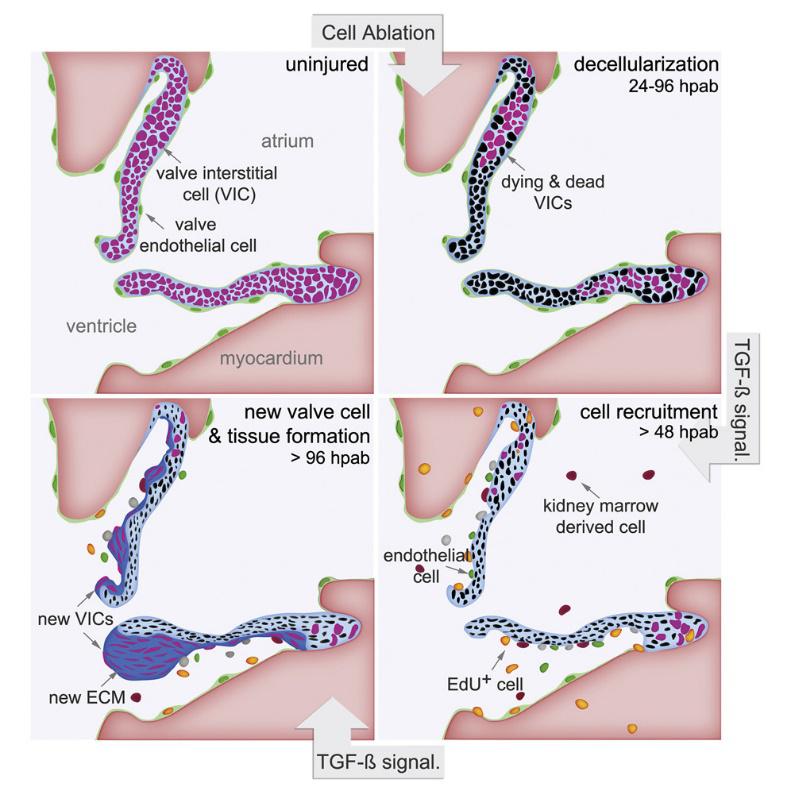 development, with the presence of abnormal cardiac valve development 48 hours after fertilization. The levels of thymosin family members were also measured in an in situ hybridization model. The results of the study illustrated the presence of TB4 at the site of developing heart in the Zebrafish, which is the naturally occurring form of the TB-500 peptide. The study concluded by stating that TB4 plays an essential role in the development of cardiac valves by increasing the levels of EMT. (7)
Posting Disclaimer
The information provided about the peptide TB-500 in this section is only for the purpose of research advancement and disbursement of knowledge. The material collected in this article is meant for informational purposes and is not to be considered instructional in any way. Moreover, we have further empathized with this by making sure no dosage information of TB-500 or recommendations about its way of consumption are mentioned. The information available in this article is a collection from different recognized studies and researches conducted by known experts and researchers in controlled medical facilities and institutions. Furthermore, the information provided in the article is not to encourage the reader to start its consumption or as an advertisement of the product. Administering any supplement or medication not FDA approved may be harmful and may cause serious illness. Peptide Pros insist that none of their products be ingested under any circumstances.
Sources
Ho EN, Kwok WH, Lau MY, Wong AS, Wan TS, Lam KK, Schiff PJ, Stewart BD. Doping control analysis of TB-500, a synthetic version of an active region of thymosin β₄, equine urine and plasma by liquid chromatography-mass spectrometry. J Chromatogr A. 2012 Nov 23;1265:57-69. doi: 10.1016/j.chroma.2012.09.043. Epub 2012 Sep 23. PMID: 23084823.
Goldstein AL, Hannappel E, Sosne G, Kleinman HK. Thymosin β4: a multi-functional regenerative peptide. Basic properties and clinical applications. Expert Opin Biol Ther. 2012 Jan;12(1):37-51. doi: 10.1517/14712598.2012.634793. Epub 2011 Nov 10. PMID: 22074294.
Guarnera G, DeRosa A, Camerini R; 8 European sites. The effect of thymosin treatment of venous ulcers. Ann N Y Acad Sci. 2010 Apr;1194:207-12. doi: 10.1111/j.1749-6632.2010.05490.x. PMID: 20536470.
Treadwell T, Kleinman HK, Crockford D, Hardy MA, Guarnera GT, Goldstein AL. The regenerative peptide thymosin β4 accelerates the rate of dermal healing in preclinical animal models and in patients. Ann N Y Acad Sci. 2012 Oct;1270:37-44. doi: 10.1111/j.1749-6632.2012.06717.x. PMID: 23050815.
Xiong Y, Mahmood A, Meng Y, Zhang Y, Zhang ZG, Morris DC, Chopp M. Treatment of traumatic brain injury with thymosin β₄ in rats. J Neurosurg. 2011 Jan;114(1):102-15. doi: 10.3171/2010.4.JNS10118. Epub 2010 May 21. PMID: 20486893; PMCID: PMC2962722.
Renga G, Oikonomou V, Stincardini C, Pariano M, Borghi M, Costantini C, Bartoli A, Garaci E, Goldstein AL, Romani L. Thymosin β4 limits inflammation through autophagy. Expert Opin Biol Ther. 2018 Jul;18(sup1):171-175. doi: 10.1080/14712598.2018.1473854. PMID: 30063848.
Shin SH, Lee S, Bae JS, Jee JG, Cha HJ, Lee YM. Thymosin beta4 regulates cardiac valve formation via endothelial-mesenchymal transformation in zebrafish embryos. Mol Cells. 2014;37(4):330-336. doi:10.14348/molcells.2014.0003
Where to buy TB 500 Peptide?
If you're looking to buy TB-500 for research purposes, shop at Peptide Pros, the most reliable supplier of the highest quality USA peptides for sale online: