Product description:
Chemical formula – C22H19N3O4
Molecular mass – 389.4
Half-life – 17.5 hours
Other names:
171596-29-5 (6R,12aR)-6-(Benzo[d][1,3] dioxol-5-yl)-2-methyl-2,3,12,12a tetrahydropyrazino[1′,2′:1,6]pyrido[3,4-b]indole-1,4(6H,7H)-dione
Ic351
GF-196960
742SXX0ICT
ADCIRCA
IC-351
ICOS 351
Liquid Cialis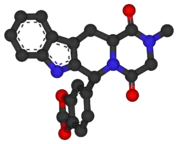 Discovery of Tadalafil:
The award of Tadalafil discovery goes to the GlaxoSmithKline (previously Glaxo Wellcome). This discovery was made possible with the collaboration between ICOS and Glaxo, which began in the year 1991 August.
In 1993, ICOS corporation started their study on a specific compound as IC351, a PDE5 (phosphodiesterase type-5) enzyme inhibitor. Just a year after it, Pfizer researchers found the potency of sildenafil for ED and inhibition of PDE5. Later in 1998, in collaboration with Eli Lilly and Glaxo, Tadalafil was discovered to cause penile erection and prevent erectile dysfunction.

Mechanism of action:
During the sexual stimulation, a penile erection occurs due to an increase in penile blood flow on account of relaxation of penile arteries and corpus cavernosum smooth muscles. This response mediates due to NO (nitric oxide) release from the endothelial cells and nerve terminals. As a result of this release, a synthesis of cGMP and cyclic GMP (cyclic guanosine monophosphate) occurs. Inhibition of PDE5 (phosphodiesterase-5) helps in improving erectile function by enhancing the concentration of cGMP. Tadalafil works by inhibiting PDE5 to increase the blood flow to sexual organs. Tadalafil liquid ()  has a longer half-life, making it preferable to other drugs for treating ED.
Clinical applications:
Pulmonary hypertension and Tadalafil:
According to a research study, tadalafil is well tolerated by patients with pulmonary arterial hypertension.
Tadalafil can help the patients with PAH by:
Improving the capacity of exercise
Increasing the measures of life quality
Reducing the time of clinical worsening in the patients
Longer half-life and sustained compliance of the drug helps in increasing the beneficial cost of the drug compared to other drugs like sildenafil citrate.
Erectile dysfunction and Tadalafil:
Tadalafil is the PDE5 inhibitor that helps in treating erectile dysfunction in males. According to the studies  effect of tadalafil stays for more than the day which makes this drug an exceptional component for ED treatment.
Raynaud's phenomenon and Tadalafil:
Raynaud's phenomenon occurs as a side effect of chemotherapy and comorbidity of the systematic rheumatic disease. The use of Tadalafil Liquid (Liquid Cialis) can help in reducing the symptoms of the disease and increasing the blood flow to the targeted organs. According to a study patients who are not responding well to sildenafil citrate can do better with tadalafil.
Disclaimer:
The information provided about Tadalafil in this section is only for the purpose of research advancement and disbursement of knowledge. The material collected in this article is meant for informational purposes about liquid Tadalafil and is not to be considered instructional in any way. Moreover, we have further empathized with this by making sure no dosage information of Tadalafil liquid or recommendations about its way of consumption are mentioned. The information available in this article is a collection from different recognized studies and researches conducted by known experts and researchers in controlled medical facilities and institutions. Furthermore, the information provided in the article is not to encourage the reader to start its consumption or as an advertisement of the product. Administering any supplement or medication not FDA approved may be harmful and may cause serious illness. Peptide Pros insist that none of their products be ingested under any circumstances.
References:
Lee, Ji Hyun, et al. "Analysis of erectile dysfunction drugs and their analogues in counterfeit drugs and herbal medicines by LC-ESI-MS/MS: Supplementary data." 분석과학 29.4 (2016): 209-119.
Curran, Monique P., and Gillian M. Keating. "Tadalafil." Drugs 63.20 (2003): 2203-2212.
Osterloh, Ian H. "The discovery and development of Viagra®(sildenafil citrate)." Sildenafil. Birkhäuser, Basel, 2004. 1-13.
Frajese, Giovanni Vanni, Flavio Pozzi, and Gaetano Frajese. "Tadalafil in the treatment of erectile dysfunction; an overview of the clinical evidence." Clinical interventions in aging 1.4 (2006): 439.
Rosenzweig, E. B. (2010). Tadalafil for the treatment of pulmonary arterial hypertension. Expert opinion on pharmacotherapy, 11(1), 127-132.
Eardley, I., & Cartledge, J. (2002). Tadalafil (Cialis) for men with erectile dysfunction. International journal of clinical practice, 56(4), 300-304.
Baumhaekel, M., Scheffler, P., & Boehm, M. (2005). Use of tadalafil in a patient with a secondary Raynaud's phenomenon not responding to sildenafil. Microvascular Research, 69(3), 178-179.
Where to buy Tadalafil Liquid?
If you're looking to buy Tadalafil for research purposes, shop at Peptide Pros, the most reliable supplier of the highest quality SARMs and USA peptides for sale online: https://www.peptidepros.net/product/tadalafil-30-mg-per-ml-30ml-bottle/