Product information:
Molecular formula – C400H625N111O115S9
Molecular mass – 9117 .60 g/mol
Sequencing of amino acids – MFPAMPLSSL FVNGPRTLCG AELVDALQFV CGDRGFYFNK PTGYGSSSRR APQTGIVDEC CFRSCDLRRL EMYCAPLKPA KSA
Storage temperature – -20°C to -80°C (for lyophilized proteins) for one year and -2°C to -8°C (for reconstituted proteins) for one month
Other names:
CL281
IGF-1 LR3
LArg3 IGF-1
LR3 IGF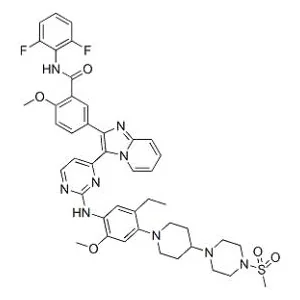 Discovery:
Advancements in molecular endocrinology have enabled researchers to investigate and reexamine the somatomedin hypothesis in the last few decades. IGF-1 and IGF-2 discovery has led to more detailed knowledge of cell-specific gene ablations, transgene overexpression, and gene deletions. The IGF-1 axis acts in the endocrine and paracrine fashion to control skeletal growth in animals and humans. IGF-1 also affects the growth of radial bone and controls the properties of trabecular and cortical ones through its effects on the osteoclast, osteocyte, and osteoblast functions.
Mechanism of action:
IGF-1 LR3, also known as Insulin-like growth factor-1 LR3, is the main mediator for stature growth. Under normal circumstances, growth hormone (GH) tends to bind with the receptors present in the liver and all the other body tissues to stimulate secretion or synthesis of the IGF-1. In the targeted tissues, the IGF-1 receptors (homologous to the insulin receptors) are activated via IGF-1 LR3 to cause intracellular signaling for the stimulation of multiple processes for enhanced growth of the skeletal stature.
The metabolic actions of IGF-1 LR3 have partial direction through the stimulation of the uptake of amino acids, fatty acids, and glucose to support growing tissues' metabolism.
Clinical applications:
IGF-1 LR3 is one of the most significant endocrine hormones that partially directly affect the metabolism of amino acids in growing tissues. Moreover, this hormone favors the production of amino acids, their sequencing, and the resulting protein formation in the body. Protein synthesis is the major indicator of the structural and skeletal growth of the body.
Weight management or fat loss:
Through the actions of IGF-1 LR3, the storage of fat in the body is channeled properly. This fat storage is consumed to produce body energy, leading to a majorly noticeable fat loss in the consumer. Moreover, IGF-1 LR3 also has positive properties of enhancing metabolism to increase lean body mass and decrease fat concentration.
IGF-1 LR3 has significant properties for regenerating nerve cells and tissues in the body. Moreover, IGF1 LR3 also upregulates the mechanism of antioxidants in the body to prevent cellular damage at every level. An enhanced nerve cells regeneration and damage prevention also improve cognitive functioning.
Disclaimer
The information provided about IGF-1 LR3 in this section is only for research advancement and disbursement of knowledge. The material collected in this article is meant for informational purposes about LR3 IGF-1. It is not to be considered instructional in any way. Moreover, we have further empathized with this by making sure no dosage information of IGF-1 LR3 or recommendations about its way of consumption is mentioned. The information available in this article is a collection from different recognized studies and researches conducted by known experts and researchers in controlled medical facilities and institutions. Furthermore, the information provided in the article is not to encourage the reader to start its consumption or as an advertisement of the product. Administering any supplement or medication not FDA approved may be harmful and may cause serious illness. Peptide Pros insist that none of their products be ingested under any circumstances.
References:
Assefa, B., Mahmoud, A. M., Pfeiffer, A. F., Birkenfeld, A. L., Spranger, J., & Arafat, A. M. (2017). Insulin-like growth factor (IGF) binding protein-2, independently of IGF-1, induces GLUT-4 translocation and glucose uptake in 3T3-L1 adipocytes. Oxidative Medicine and Cellular Longevity, 2017.
Elis, S., Wu, Y., Courtland, H. W., Sun, H., Williams, V., Jepsen, K., & Yakar, S. (2009, June). IGF-1 bioavailability in tissues determines body size. In 91. Annual Conference on endocrine System Diseases.
LeRoith, Derek, and Shoshana Yakar. "Mechanisms of disease: metabolic effects of growth hormone and insulin-like growth factor 1." Nature clinical practice Endocrinology & metabolism 3.3 (2007): 302-310.
Where to find IGF-1 LR3 for Sale?
If you're looking to buy IGF-1 LR3 for research purposes, shop at Peptide Pros, the most reliable supplier of the highest quality USA peptides and SARMS for sale: https://www.peptidepros.net/product/igf-1-lr3-1mg/